Manage your accounts no matter where you are. With CB Mobile Banking, you'll get the fastest and easiest way to do your banking, which is also safe and secure. You can transfer funds at the office, check your balance at the checkout, make deposits and pay bills in your living room, and more!
With CB Mobile Banking, you can take advantage of Text Banking, Mobile Web Banking, and even a Smart Phone App!
Easy to Sign Up
This is a free service. In order to use our mobile app you will need to enroll in online banking.
CB Mobile Banking App
Do you have an iPhone ®, iPad ®, iPod ®, or an Android ®? Get your CB Mobile App in a snap! When you sign up for the CB Mobile Banking, we will send you a link to download and install the app. With the CB Mobile app installed, you can do everything that Mobile Web Banking can do – with the familiar ease and functionality of that operating system.
Click to here to download the app for your iPhone or Android.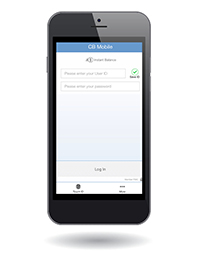 Mobile Web Banking
If you can browse the web on your mobile device, you can visit the CB Mobile website at www.cbhutch.com. You can transfer money, pay bills, and locate an ATM.
Text Banking
Did you know that you can bank from your cell phone using SMS text messages? Once you activate text messaging in your online banking, you can send a text message to 99588 to request information. We will send a reply text with the requested information within seconds.
Instant Balance
Would you like to take a quick glance at your account balance? Our Instant Balance feature lets you view up to six account balances right from your CB Mobile app login screen – no password necessary!
To begin the setup process, just tap the Instant Balance button in the top right corner of the screen. It's that easy!
The Instant Balance feature will be available after you download and install the latest version of the CB Mobile app for your smart phone.
Message and data rates may apply.