Manage your accounts no matter where you are. With CB Mobile Banking, you'll get the fastest and easiest way to do your banking, which is also safe and secure. You can transfer funds at the office, check your balance at the checkout, make deposits and pay bills in your living room, and more!
With CB Mobile Banking, you can take advantage of Text Banking, Mobile Web Banking, and even a Smart Phone App!
Easy to Sign Up
This is a free service. Simply log on to your CB Online Banking, select "Profile". Click "Enroll" for Mobile Banking and follow the instructions. In order to use our mobile app you will need to enroll in online banking.
Text Banking
You don't even need internet access on your phone! With text-enabled phones, you can view balances, transaction history, find ATMs, and receive account alerts. (Standard text rates apply from your phone provider.)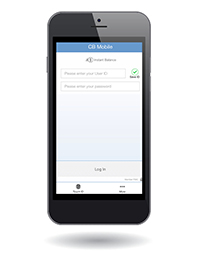 Mobile Web Banking
It gets even better if you have a phone with internet access. In addition to the Text Banking features, you can transfer money, pay bills, and locate an ATM.
Smart Phone App
Do you have an iPhone ®, iPad ®, iPod ®, or an Android ®? Get your CB APP in a snap! When you sign up for CB Mobile Banking, we will send you a link to download and install the CB Mobile app. With the CB Mobile app, you can do your banking and make deposits.
Download the app for your iPhone.
Download the app for your Android.
Instant Balance
Would you like to take a quick glance at your account balance? Our new Instant Balance feature lets you view up to six account balances right from your CB App login screen – no password necessary!
The Instant Balance feature is available with the CB Mobile Banking app.
The new Instant Balance button is on the top right corner of the screen. Once you have the CB Mobile Banking app downloaded, click "More" and then "Instant Balance Settings" to turn Instant Balance on and select the accounts you would like to view. When you open the Touch Banking app, tap the Instant Balance button on top right corner of the screen. It's that easy!
Message and data rates may apply.